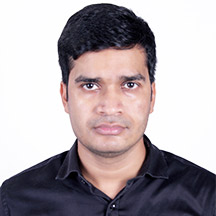 Nihar Mullick
Managing Director
" Nihar leads the team at BHC. He is Dedicated to the growth of the club; Persistent in maintaining the service quality; And Committed to uninterrupted operation of the club. Prior to BHC, he worked with leading IT MNCs for 9 years. "
Asish Kumar Rout
Chief Trainer
A fitness maestro with a decade of experience in the industry, Asish leads the team of trainers at BHC. He is a renowned body-building trainer and has no-less expertise in Aerobic and Yoga.
Sameer Biswal
Reception Head
With a handsome 6 years experience in various corporate sectors, Sameer joined us in 2013. Do stop by him for any enquiries, complains or suggestions.
Anurag Dash
Trainer
Young and Dynamic, Shankar is the friendliest trainer around. Don't be surprised to know that he has only 1 year of experience to his kitty. He gracefully deceives as any other professional with a decade of expertise.
Gupteswar
Trainer
Gupteswar started his carrier in a remote place of Odisha. Soon after he got into Jindal Steel, Anugul. He loves to train people. He keeps his footprint in such a way that client miss him for years if he leaves their workout place.
Santosh
Aerobic Trainer
Certainly, the best Aerobic Guru in the town. His knowledge in aerobic and command in class are commendable. He is competent in aerobics, step aerobics, aqua aerobics, and kick boxing aerobics. Santosh is in his 11th year of Aerobics training and we are proud to have him with us.
Amit
Trainer
Technique and Proficiency are virtues of a disciplined workout - That's what Amit believes. This age defying fitness guru has earned his reputation of a "technique-specialist" from his 8 years of experience across metro cities in India.
Krishna
Trainer
Popular for his soft-spoken persona and Prominent for his tough workout patterns, Krishna brings his 6 years of coaching experience to BHC. His prowess in challenging health issues is unmatched. A firm believer of "No Pain No Gain", he is the most sought after face on the floor.
Kunal
Trainer
Kunal is man of few words, but let's his action speak. He is a hard-core trainer with 7 years of experience to his belt. He joined us msome months back and has established himself as a no-joke-about-goals guy!
Rajendra
Trainer
Adorable and Hard-working, He is the youngest member of the family. He is the budding professional body-building star in Odisha and posses equal knack in strength training. He started with BHC a year ago and has a bright future ahead.
Amita
Trainer
A glorious professional weight-lifter, Amita joined us as fresher but her grasping ability and inquisitive learning attitude sets her apart. For her commanding personality, it's not unusual for people to consider her the lead-trainer.
Manoranjan
Supporter
A humble and well behaved person, Manaoranjan is always there to give you support in weight training. He joined us in 2013 as fresher, but now you can not differentiate him, from any other experienced professional.